Translated by Fulano from an article in Zeta Tijuana.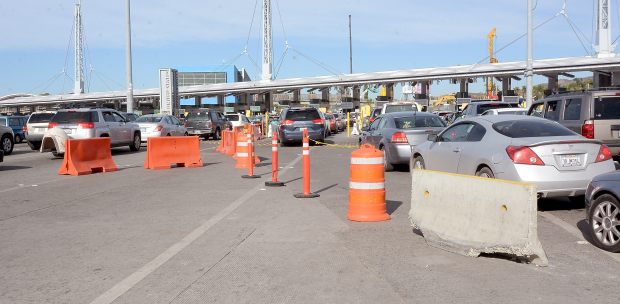 Pretending they are security authorities, informal vendors trick people who by mistake end up in the Sentri Lane to cross the border. Every day, about 30 drivers who do not have the Sentri pass are victims.
Such is the case of Ricardo Saucedo, a resident of Baja California Sur, who on Sunday, December 3, while using his GPS system on his cell phone, ended up in the Sentri Lane, in spite of not having a Sentri pass.
At that moment, some illegal merchants, pretending they were border security guards, who even "had a badge," and wearing burgundy and with a badge, told him to continue ahead in the same lane to help him exit it. Ricardo ended up a few meters from the access module, and in US territory.
The man and his wife were closed in between retaining walls and cones to identify the lanes that the illegal merchants had placed.
He had no way out. The fake guards then offered to move the cones so he could change lanes to the Ready Lane, in return for 8,500 pesos (US$425), and that way he could avoid paying a fine of up to $5,000 to the US government.
The extortioners told him that the security cameras at the border crossing would detect he had no Sentri card and he would have to face US justice, risking his right to enter the US.
Ricardo pulled his car to the left, to not block the lane, and went to an ATM to remove 6,000 pesos, and along with that and 1,500 peso and US$50 dollars from his wife, paid the bribe. Then the blanket vendor moved the cones to allow him to pass.
In a poll by ZETA at the busiest border crossing in the world, drivers as well as Tijuana municipal police, said that this type of extortion happens daily, "at least two cases of this are reported every week," said a police officer named Arredondo, who opted to not state his full name for fear of reprisals.