Translated by Fulano from an article in Ecos de Rosarito.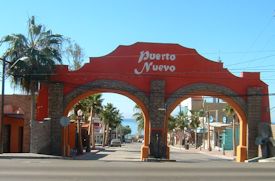 The Environmental Management Department opened administrative procedures against two Puerto Nuevo restaurants which failed to comply with some environmental regulations.
One of them is the problematic Ángel del Mar, which was accused of having its workers throw rubbish and waste into the ocean, according to a video distributed days ago, which was the key to the arrest of the person responsible.
The Coordinator of the Environmental Management Department, Giovanna Guadarrama, pointed out that in spite of the limitations as a municipality, it intervened to investigate and fine such a violation for contaminating the ocean, which is in the purview of the Federal Environmental Protection Agency and Federal Water Agency.
For all the problems presented by this case, she clarified that the testimony provided by the man arrested was insufficient to act against the restaurant, as there was no way to prove the garbage tossed into the ocean was from that business, since the man arrested denied it.
"Waht we did was implement inspection operations in two restaurants to see if they complied with environmental regulations," said the head of the department.
The inspections showed that both businesses failed to comply with certain regulations for managing waste and contaminants, and there are suspicions that the Ángel del Mar restaurant is not connected to the sewage lift station.
In spite of the fact that the owner said his restaurant was connected, in the 3-day period he was given to prove it, he could not.
According to Giovanna Guadarrama, after the 3-day period, there is a 30-day period in which the municipality will issued a fine and notify the owners.
If the fine is not paid, they will proceed to close the restaurant.
What was accomplished was the proper collection of solid waste, grease traps and covered trash cans.
"Right now we only inspected two restaurants, but we warned that these inspections will continue, we are going after all the rest with more severe fines," said Giovanna Guadarrama.