Translated by Fulano from an article in Zeta Tijuana.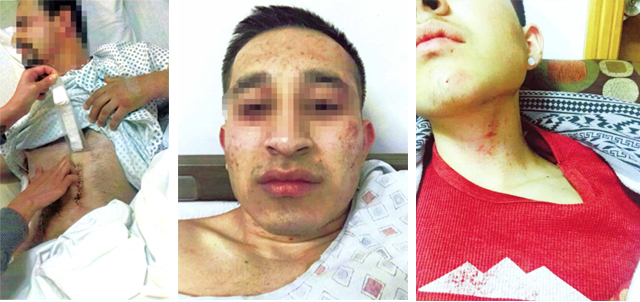 Wednesday, February 22, 2017, Sr. Roberto Ramírez Mendoza, 43 years old, under went a second operation to repair torn intestines which Tecate municipal police tore with a beating the night of Friday February 10 and early Saturday morning, February 11. In the same event was also attacked his wife Sonia and his two minor sons, Alejandro, 15, and Eduardo, 17. Eduardo is was hospitalized after the attack. He had surgery to his heart and was suffocated at least twice, according to what he can recall.
During the morning of February 11, the Tecate police department issued a press release about the events, which was published in several news outlets, however that press release from the police is different. They say that the family had pursued, threatened and attacked a Tecate municipal police officer, who was injured.
According to what the victims said, the attacked involved police officers named Álvarez, Casillo and Cuevas (who had been arrested in May, 2016 for beating and kidnapping a child), and some other police officers who had not been identified in the police department photo album. "Some 10 patrol vehicles came," they said, and the attack was near police headquarters.
The version from the police has several loose ends.
At first, the authorities had said nothing about the police officer presumably being attacked, nor his state of health. ZETA was told it was a police officer named Álvarez, who has scrape on his wrist and hand.
The weapon supposedly used in the attack was finally reported to be a toy gun, and later a BB gun, and this is not in the state Attorney General's files.
When the four family members were freed, they were given a fine of 500 pesos (US$25) for infractions.
The two minor victims, one with a heart problem, were beaten, handcuffed, and the 15 year old was in jail for several hours (including part of the time with his injured father), and both these actions are violations of the law. The 17-year old had his wallet stolen and not returned.
It took two hours to free them from jail after they paid the 500 pesos fine. This is considered kidnapping.
In this context, the family denied having attacked:"…if we are such criminals, why did they let us go," said the father, and then added: "…this matter of the pistol was told to me by a police officer when I was in the hospital. Before that I was at the Red Cross. They told me they found my pistol in the Tundra, and I told them let's see if there are fingerprints because I do not own a pistol."